...click here...OptiClimate Inverter Pro Series
If the topmost video can not be played, please click the picture below for another link.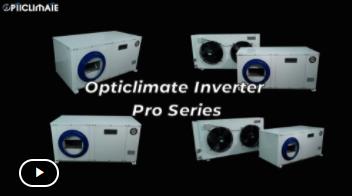 OptiClimate Inverter Pro Series, which provide the best environment for plant growth is creatively invented by the "Opticalaircon" technology after more than ten years of independent research and development.
That is, "cooling, heating, dehumidification, air circulation, filtration and light sensing" are integrated in a system.
As one of the largest energy-consuming equipment in plant factory, the energy saving of air conditioner is undoubtedly the biggest factor in the operating costs of plant factory.
Therefore, we transplanted the technology including frequency conversion technology, voltage stabilization and current stabilization to air conditioners for indoor farming
"Opticlimate PRO Inverter Series Air Conditioner" saving energy at least 35% more than normal air conditioner.
Grow Room Environmental Control System is one of the main series of OptiClimate products, which also includes HVAC, LED/HPS lighting, CO2 controller, dehumidifier & ventilation equipment.
OptiClimate can always provide the professional plant growth solutions. Being important parts of OptiClimate Farms, the environmental products are designed with compact size and plug-&-play installation, for the easy control of the temperature, the humidify and other elements of the environment in the farms.
With its open Protocol and standard interface, it could be connected and controlled through centralized system together with other products of OptiClimate Farms. Automated climate control.Ideal environment to grow in any climate and season.