...click here...Professional Opticlimate Inverter Pro Series OPTICLIMATE manufacturer
If the topmost video can not be played, please click the picture below for another link.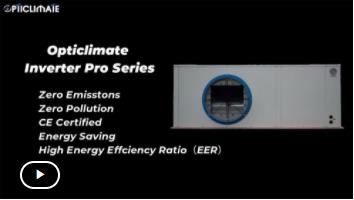 Packaged PRO5 Inverter Series (With professional dehumidification)
The working speed of the compressor/fan changes in real time according to the cooling load, eliminating the harsh start/stop cycle, so that the compressor can run at a more stable speed and save energy.
It can make the room reaching the required temperature faster, and maintain the temperature and humidity more uniformly, so as to obtain better efficiency and energy-saving effects.
In addition, the components wear less and extend the overall life of the product.
Cooling, heating, dehumidification, ventilation, filtration and light sensor are integrated in a single unit.
Opticlimate PRO Inverter Series Air Conditioner saves energy > 35% more than normal air conditioner.