...click here...Professional HVAC Air Conditioning System For Indoor Farm
If the topmost video can not be played, please click the picture below for another link.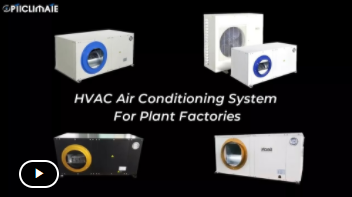 OptiClimate, a unique technology, could provide the best environment for plant growth, which unites cooling, heating, dehumidification, air circulation, filtration and optical induction in one system.
OptiClimate is independently invented by Hicool research team through relentless work over ten years .
OptiClimate owns a complete series of energy-saving products from Pro2 to Pro5, consisting of air cooled system, water cooled system, packaged or split units, optional with inverter technology, voltage and current stabilization, even zero-emission clean refrigerant.
Opticlimate is the best choice for indoor farm / vertical farm / container farm.